Over the weekend, I picked up this 1952 Martin Indiana saxophone from a gentleman selling it on Craigslist. It's smooth smooth smooth. It came with the original leather-wrapped wooden case which smells like it's been through hell since 1952. It would be great to restore the case, but I have no idea who provides that type of service in the Metro area.
Since I first started taking sax lessons I have been renting an instrument at the tune of $40/month. I figured it best to purchase one outright and save some money in the long run. I picked up this dandy sax for $225. It's lacquer is not in the best shape, but it has recently replaced pads and the sound is very nice. It's not pitchy like the rental sax, the notes sail out of it smoothly.
I also got a bag, neckstrap, and some cork grease for an additional $40.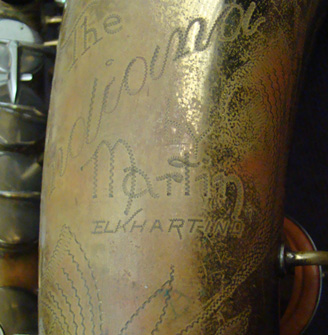 The name Martin is prominently displayed on the sax, so I've deemed its full name as Marty McFly, or McFly for short. 'Back to the Future' was a bad ass movie.